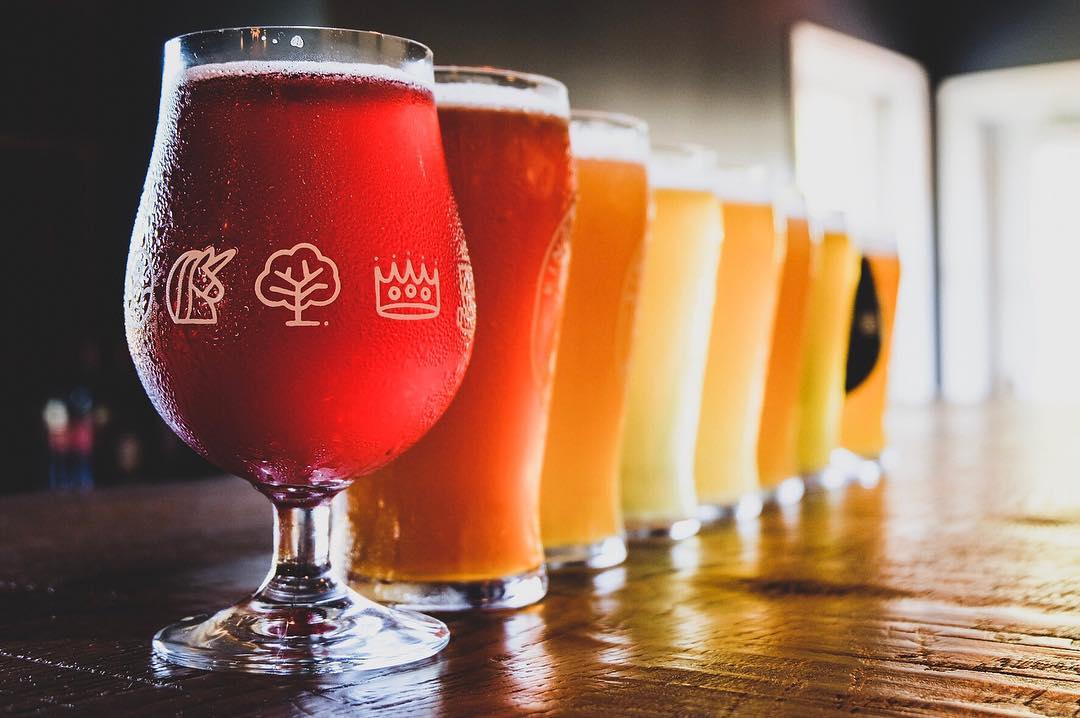 PECK AWAY AT OUR TAP LIST
HEN HOUSE (V2)
We start this one off with Golden Promise, a touch of Vienna malt and a good helping of Flaked Wheat. After that, we hit it with Citra, El Dorado & Azacca in the kettle and dry hop (along with a touch of Mosaic). The finished product has big notes of tropical fruit, stone fruit, a round mouthfeel and a smoothness that makes it very drinkable (dare we say crushable). And that's not even the best part! We, along with several other breweries (and beer related businesses) have partnered with our local Habitat for Humanity chapter in an effort to construct a house that is "built by beer!"
STORK CHOP
This is our take on milk stout. We start off with Maris Otter, Carafa, some of our favorite crystal malts and a good helping of flaked oats. At the end of the boil, we toss in some lactose to round out the experience. Next, we ferment with our English house yeast. After fermentation, we add Madagascar vanilla to smooth out the finish! We get notes of chocolate, hints of marshmallows, and a finish that keeps you coming back. Heavy enough to give it some oomph but still an easy drinker. This is our type of summer stout!!!
PRACTICAL YOLKER
Hazy IPA hopped with Ekuanot and Strata!
HOT GULL
Our take on a Dortmunder Export. A little higher ABV than usual but smooth and malt forward!
SWIFT OR SWALLOW
Berliner Weisse fruited with blackberry and cherry!
TOUCAN TANGO
This is an experimentive farmhouse ale that employs local grains from Carolina Malt House, several different types of yeast including typical brewers yeast as well as two distinct strains of Brettanomyces. We condition the end result on pineapple and mango to compliment the fruity esters from the yeast combination!
LITTLE WING
A combination of our favorite base malt, house yeast, and noble hops, this beer is designed to be easy drinking, crisp and refreshing.
LITTLE WING: COFFEE & VANILLA
We took our house blonde ale and conditioned it on vanilla beans and coffee from Enderly Coffee Co.!
LITTLE WING: STRAWBERRY
We took our house blonde ale and conditioned it over 400 pounds of strawberry puree!
BIRDIE ON THE 9TH
A collaboration between us, D9 and our buds at Carolina Malt House! This is a high ABV pale ale using 100% Carolina Gold malt. We employed Mosaic hops in the whirlpool and Kveik yeast for fermentation. The result is a crisp beer with a hop presence that is pleasant but not overpowering!
PARROT DICE
Milkshake IPA with guava and vanilla (contains lactose).
BRAMBER
Named after our favorite real estate agent (the same one who helped us find our nest), this is our American Amber Ale. Bready base malts combine with Rye, Victory and Crystal malts to provide a complex yet crisp malt character. We add just enough cascade hops to balance it all out.
LOST LOON
This is our hoppy farmhouse ale. It features hops dripping with notes of lemon and lime plus a yeast strain that provides a complimentary tartness and lends a dry rustic character.
NOTHING BUT NEST
Nothing But Nest is our Citra hyper-focused DIPA. Hopped almost exclusively with Citra hops and bursting with notes of mango and lime. This hazy juice bomb has a feathery soft mouthfeel from a heaping helping of oats, and glides in at a dangerously smooth 8.0% ABV.
CUCKOO CLOCK
We took one of our IPA recipes and added lactose, vanilla and lime to it. The result is a rich and creamy IPA that has tons of citrus on the nose and palette.
POPPYCOCK
Crafted using pilsner as a base, a touch of munich and a hefty helping of flaked grains. The stage is set perfectly for three of our favorite hops: Citra, Mosaic and Ekuanot.